Can You Download Sportsbook Poker For A Mac?
Update – SportsBook Poker has stopped accepting USA players! Visit our US poker sites for a complete list of online poker rooms open to American players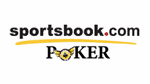 Question: Can I download Sportsbook Poker for a Mac?
Answer: No. Sportsbook Poker is no longer accepting new players.
How Do I Play Sportsbook Poker On My Mac Then?
Players can choose to download the Mac Sportsbook Poker room or use Wine (as instructed below). The only reason we can see anyone using Wine to play at Sportsbook Poker is for the features. Not all of the features are available on the native Mac client but the loss in features really isn't that noticeable.
Wine is a program that allows Mac users to use Microsoft Windows software on their Mac computers.  You may encounter some glitches trying to run Sportsbook Poker on your Mac through Wine, which is why it's better to opt for the native Mac download.
You can download and install Wine at sourceforge.net.  I must warn you that this is not for the technically illiterate.  Installing and configuring Wine is a little complicated, but the directions on sourceforge should be good enough to get you going as long as you are a little computer savvy.
How To Play Mac Poker Without Wine
If using Wine sounds a little over your head or too much effort, there are some online poker rooms that offer poker software specifically for the Mac.
For more info on these poker rooms, read my best Mac Poker rooms page.