eCheck Poker Sites
Echecks are one of the easiest and fastest ways for Americans and Canadians to deposit money at online poker rooms. With a limited number of options for North American players to choose from when depositing money on an online poker site, eChecks are becoming a more attractive option because of their ease of use and speed of delivery.
Most eChecks are processed and sent instantly to your online poker account.
Update –  USA Players – The only online poker site accepting eChecks is Bet Online. Receive a 25% cash bonus on all deposits made with an eCheck. You can also visit our US poker site page for a complete list of online poker rooms that accept American players

Which Online Poker Sites Accept eChecks?
#1
Bet Online – 100% approval rate. Bet Online is the only online poker room accepting eChecks and Instant Checks from USA players. 25% instant bonus on your first deposit!. Click here to visit BetOline.com.
#2
PokerStars – 100% approval rate. Best site that accepts E-checks from new players outside of the United States. Instant deposit of funds – No waiting for funds to clear your bank. Click here to visit PokerStars.com.

No USA Players
Which Online Casinos Accept eChecks?
There are only a couple of online casinos that accept echeck deposits. We've listed them below as well as the deposit bonus new players will receive
The three top online poker sites that do accept e checks are all high quality in my opinion.
Pokerstars eChecks 2023 – PokerStars eChecks Declined
For a number of years, Pokerstars was the go to site when you wanted to deposit to a poker room using echecks. Since early 2011 there have been numerous complaints surrounding Pokerstars echecks. The reports aren't isolated to one state either. Players in Nevada, Arizona, Louisiana, Illinois, New York, Florida and a number of other states have commented that the Pokerstars echecks are not working or they've initiated a deposit but their echeck deposit at Pokerstars was declined.
If you live in one of the states affected by the echeck problems at Pokerstars, you do have alternative options.  The poker sites above all have fantastic deposit bonuses for new players and provide timely cashouts.We will update this page once the echeck problems at Pokerstars is fixed.
How eChecks work
Using an eCheck is very simple. Sometimes the e-check process can be called EFT (Electronic Funds Transfer) or ECP (Electronic Check Processing).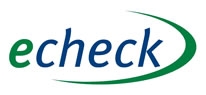 When you input the information from your checking account into the deposit screen of your favorite poker room, the bank initiates and sends the funds through an electronic transfer. The money is usually sent and shows up in your online poker account instantly. Most rooms simply make you wait until the check clears the bank before you can cash out your winnings.
The money is processed by your bank like a normal personal check would. It usually takes 7-10 days for the money to be withdrawn from your bank account, but the poker room fronts you the money instantly. They trust that your eCheck will clear your bank.
How do I deposit using eChecks?
Each online poker room has it's own process and information that it needs to process an E-check deposit, but most should look somewhat like Pokerstars' Instant eCheck deposit process below: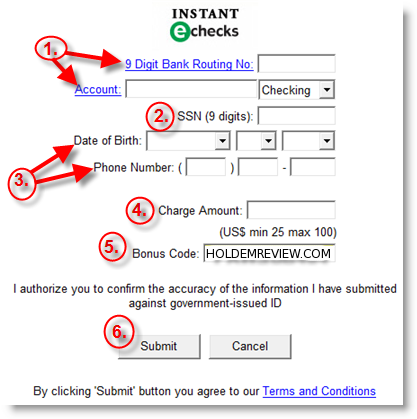 You will probably need most of the information above for each individual poker room.
You can find your "Routing Number" and "Account Number" on one of your paper personal checks.
The poker room needs your Social Security Number (SSN) to make sure you are who you say you are and you are not trying to commit fraud. I like this security measure, since you can't be too careful about online identity fraud these days.
The poker room will compare the date of birth and phone number you input against the information on your bank account, so make sure you use the same info that is on your bank account.
Charge amount – This is the amount you want to deposit. See the section below for eCheck deposit limits.
For Pokerstars, make sure to use the marketing code "HOLDEMREVIEW.COM" to get your free $600 when you deposit for the first time. For other poker rooms, read my online poker bonus codes page.
Click "Submit" and you are all done. Your money should now be in your online poker account and ready to play with.
How much can I deposit with an eCheck?
It depends on the poker room, but most will limit how much you can deposit the first time. Once you have made a successful e-Check deposit, the poker site will increase your limit. For VIP or high volume players, larger limits can be negotiated.
For new depositors, usually you can deposit a maximum of $600 in a 7 day span, while depositing no more frequently than every 48 hours. This is to protect the room against "hit and runs" where someone will deposit a large amount of money with a fake account and the disappear before they can get the money back.
Once your first eCheck clears, the poker room knows that your account is good and you can use the Echeck deposit option more freely.
Are eChecks safe?
eChecks are one of the safest forms of payment for playing poker online.  Some rooms require a copy of your ID.  (Pokerstars does not.) With the deposit limits I discussed in the previous section, the possibility of fraud is greatly reduced. After all, who would want to go through so much trouble for not very much money?
For more detailed information for each room, go to a specific poker site and go to the "more information" section of their "deposit options" page.
If you would like to start playing online poker using an eCheck, download Bet Online Poker right now.   Bet Online Poker is my highest rated online poker room for players from North American and also internationally.  You can also check out AbsolutePoker.com, which has excellent eCheck processing abilities.