The Best Online Poker Room For Sit And Go Tournaments. Does Size Really Count?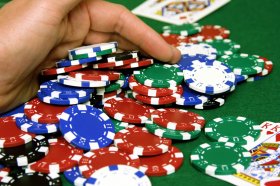 Sit and go poker tournaments may be my favorite form of poker on the internet. I have made a living for months at a time playing nothing but no limit sit and gos online.
There is a lot of money to be made if you know proper sit and go tournament strategy. Once you have a good sit & go strategy, the most important thing is to find the right competition to play against.
I have personally increased my profits by more than 20% just by switching sit and go poker rooms. That may sound far-fetched to you, but it is absolutely true.
The online poker room that you play at has bigger impact on your online poker profits than any other factor besides your strategy.
So I am letting the cat out of the bag. Here are the poker sites I personally play at and profit big time at when playing sit and go poker tournaments. Below are the biggest sit n go poker site online. If your a USA player, you won't be able to play at any of the sites  below, but can opt to play sit n go tournaments at BetOnline Poker or Ignition Poker. See our USA poker page for details on which sites accept American players.
The Best Online Poker Rooms For Sit And Go Tournaments
#1 – 888 Poker –
No USA Players Allowed
888 Poker has the best sit and go tournament structure in my opinion. They offer both normal and turbo-speed sit and gos. I like the turbos. They are quick enough that you can finish within a half hour most of the time, but they are not so fast that you cannot play some fun poker at the lower levels.
As with most of 888Poker's other games, they offer some very high stakes sit and go tournament buy-ins in Omaha and Hold'em format. 888 is one of the biggest real money Hold'em sites. There is a $500 buy-in sit and go at 888, however I'm not sure if they ever run that high. It sure would be fun to watch though.
888 is a great site if you take your sit and gos seriously and you want to multi-table sit and gos. You can play up to 8 at a time if you can keep up. (I've tried it… didn't go so well.)
888 offers a great 100% up to $600 deposit bonus. Join through this site and receive a free $8 no deposit bonus.
If you want to get started at 888Poker sit and gos, click here to download 888 free software. You can download a Mac compatible version by clicking here.
#2 – Party Poker –
No US Players
Party Poker has some of the fishiest competition at all levels of their sit & gos. PartyPoker is primarily a poker room, but they also run a casino, bingo, and you can play blackjack while playing poker. There are tons of gamblers always willing to throw away large amounts of money. Sit and gos seem to be their preferred choice to dump money into your lap.
Since sit and gos are short tournaments with a big pay-out, they naturally attract "gamblers" who want to have some fun gambling at poker and go all-in a lot. This naturally leads to some frustrating aggressive opponents, but more importantly, it leads to you winning lots of money from their dumb mistakes. If you do not live in the US, Party Poker is the best poker room for sit & go's.
To start making butt-loads of dough (a lot of money) at the fishiest sit and go tournaments, click here to download Party Poker's free software. They also have a no-download version that is Mac compatible. If you usemy exclusive bonus code – PPAL500 you will receive a 100% up to $500 bonus when you sign up.
#3 – Poker Stars –
NO US Players Accepted
PokerStars hosts the highest volume of sit and gos online. Pokerstars offers both regular and turbo-paced tournaments in a variety of games and buy-ins. You can choose to play Texas Holdem, Omaha and Omaha Hi-Lo, Stud, HORSE, and Razz. They offer both free and real money sit and go tournaments at nearly any limit you coud want.
Pokerstars sit-n-gos go as high as $2100+90 to buy in. The highest I have ever played is $200+15 so I don't know how tough these real high stakes are, but neither do many other players. You have to be making some serious dough to play stakes this high!
On the other hand, Poker Stars sit and gos are offered for as little as $1+0.20. I can tell you that you will find pretty soft competition all the way up to the $50+5 sitngo's.
To get started playing at the biggest online poker room sit and go tournaments, click here and download Pokerstars free software. You will also receive $600 free on your first deposit if you usemy marketing code – MIK500 Click here to visit Poker Stars now.