The Best Online Poker Room For Sit And Go Tournaments. Does Size Really Count?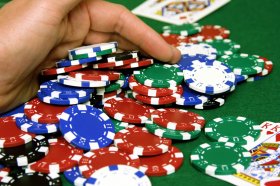 Sit and go poker tournaments may be my favorite form of poker on the internet. I have made a living for months at a time playing nothing but no limit sit and gos online.
There is a lot of money to be made if you know proper sit and go tournament strategy. Once you have a good sit & go strategy, the most important thing is to find the right competition to play against.
I have personally increased my profits by more than 20% just by switching sit and go poker rooms. That may sound far-fetched to you, but it is absolutely true.
The online poker room that you play at has bigger impact on your online poker profits than any other factor besides your strategy.
So I am letting the cat out of the bag. Here are the poker sites I personally play at and profit big time at when playing sit and go poker tournaments. Below are the biggest sit n go poker site online. If your a USA player, you won't be able to play at any of the sites  below, but can opt to play sit n go tournaments at BetOnline Poker or Bovada Poker. See our USA poker page for details on which sites accept American players.
The Best Online Poker Rooms For Sit And Go Tournaments
Warning
: fopen(geo/GeoIP.dat): failed to open stream: No such file or directory in
/home/holdemr/public_html/geo/geoip.inc
on line
627
Warning
: ftell() expects parameter 1 to be resource, boolean given in
/home/holdemr/public_html/geo/geoip.inc
on line
533
Warning
: fseek() expects parameter 1 to be resource, boolean given in
/home/holdemr/public_html/geo/geoip.inc
on line
535
Warning
: fread() expects parameter 1 to be resource, boolean given in
/home/holdemr/public_html/geo/geoip.inc
on line
539
Warning
: fseek() expects parameter 1 to be resource, boolean given in
/home/holdemr/public_html/geo/geoip.inc
on line
589
Warning
: fread() expects parameter 1 to be resource, boolean given in
/home/holdemr/public_html/geo/geoip.inc
on line
539
Warning
: fseek() expects parameter 1 to be resource, boolean given in
/home/holdemr/public_html/geo/geoip.inc
on line
589
Warning
: fread() expects parameter 1 to be resource, boolean given in
/home/holdemr/public_html/geo/geoip.inc
on line
539
Warning
: fseek() expects parameter 1 to be resource, boolean given in
/home/holdemr/public_html/geo/geoip.inc
on line
589
Warning
: fread() expects parameter 1 to be resource, boolean given in
/home/holdemr/public_html/geo/geoip.inc
on line
539
Warning
: fseek() expects parameter 1 to be resource, boolean given in
/home/holdemr/public_html/geo/geoip.inc
on line
589
Warning
: fread() expects parameter 1 to be resource, boolean given in
/home/holdemr/public_html/geo/geoip.inc
on line
539
Warning
: fseek() expects parameter 1 to be resource, boolean given in
/home/holdemr/public_html/geo/geoip.inc
on line
589
Warning
: fread() expects parameter 1 to be resource, boolean given in
/home/holdemr/public_html/geo/geoip.inc
on line
539
Warning
: fseek() expects parameter 1 to be resource, boolean given in
/home/holdemr/public_html/geo/geoip.inc
on line
589
Warning
: fread() expects parameter 1 to be resource, boolean given in
/home/holdemr/public_html/geo/geoip.inc
on line
539
Warning
: fseek() expects parameter 1 to be resource, boolean given in
/home/holdemr/public_html/geo/geoip.inc
on line
589
Warning
: fread() expects parameter 1 to be resource, boolean given in
/home/holdemr/public_html/geo/geoip.inc
on line
539
Warning
: fseek() expects parameter 1 to be resource, boolean given in
/home/holdemr/public_html/geo/geoip.inc
on line
589
Warning
: fread() expects parameter 1 to be resource, boolean given in
/home/holdemr/public_html/geo/geoip.inc
on line
539
Warning
: fseek() expects parameter 1 to be resource, boolean given in
/home/holdemr/public_html/geo/geoip.inc
on line
589
Warning
: fread() expects parameter 1 to be resource, boolean given in
/home/holdemr/public_html/geo/geoip.inc
on line
539
Warning
: fseek() expects parameter 1 to be resource, boolean given in
/home/holdemr/public_html/geo/geoip.inc
on line
589
Warning
: fread() expects parameter 1 to be resource, boolean given in
/home/holdemr/public_html/geo/geoip.inc
on line
539
Warning
: fseek() expects parameter 1 to be resource, boolean given in
/home/holdemr/public_html/geo/geoip.inc
on line
589
Warning
: fread() expects parameter 1 to be resource, boolean given in
/home/holdemr/public_html/geo/geoip.inc
on line
539
Warning
: fseek() expects parameter 1 to be resource, boolean given in
/home/holdemr/public_html/geo/geoip.inc
on line
589
Warning
: fread() expects parameter 1 to be resource, boolean given in
/home/holdemr/public_html/geo/geoip.inc
on line
539
Warning
: fseek() expects parameter 1 to be resource, boolean given in
/home/holdemr/public_html/geo/geoip.inc
on line
589
Warning
: fread() expects parameter 1 to be resource, boolean given in
/home/holdemr/public_html/geo/geoip.inc
on line
539
Warning
: fseek() expects parameter 1 to be resource, boolean given in
/home/holdemr/public_html/geo/geoip.inc
on line
589
Warning
: fread() expects parameter 1 to be resource, boolean given in
/home/holdemr/public_html/geo/geoip.inc
on line
539
Warning
: fseek() expects parameter 1 to be resource, boolean given in
/home/holdemr/public_html/geo/geoip.inc
on line
589
Warning
: fread() expects parameter 1 to be resource, boolean given in
/home/holdemr/public_html/geo/geoip.inc
on line
539
Warning
: fseek() expects parameter 1 to be resource, boolean given in
/home/holdemr/public_html/geo/geoip.inc
on line
589
Warning
: fread() expects parameter 1 to be resource, boolean given in
/home/holdemr/public_html/geo/geoip.inc
on line
539
Warning
: fseek() expects parameter 1 to be resource, boolean given in
/home/holdemr/public_html/geo/geoip.inc
on line
589
Warning
: fread() expects parameter 1 to be resource, boolean given in
/home/holdemr/public_html/geo/geoip.inc
on line
539
Warning
: fseek() expects parameter 1 to be resource, boolean given in
/home/holdemr/public_html/geo/geoip.inc
on line
589
Warning
: fread() expects parameter 1 to be resource, boolean given in
/home/holdemr/public_html/geo/geoip.inc
on line
539
Warning
: fseek() expects parameter 1 to be resource, boolean given in
/home/holdemr/public_html/geo/geoip.inc
on line
589
Warning
: fread() expects parameter 1 to be resource, boolean given in
/home/holdemr/public_html/geo/geoip.inc
on line
539
Warning
: fseek() expects parameter 1 to be resource, boolean given in
/home/holdemr/public_html/geo/geoip.inc
on line
589
Warning
: fseek() expects parameter 1 to be resource, boolean given in
/home/holdemr/public_html/geo/geoip.inc
on line
605
Warning
: fseek() expects parameter 1 to be resource, boolean given in
/home/holdemr/public_html/geo/geoip.inc
on line
799
Warning
: fread() expects parameter 1 to be resource, boolean given in
/home/holdemr/public_html/geo/geoip.inc
on line
803
Warning
: fseek() expects parameter 1 to be resource, boolean given in
/home/holdemr/public_html/geo/geoip.inc
on line
799
Warning
: fread() expects parameter 1 to be resource, boolean given in
/home/holdemr/public_html/geo/geoip.inc
on line
803
Warning
: fseek() expects parameter 1 to be resource, boolean given in
/home/holdemr/public_html/geo/geoip.inc
on line
799
Warning
: fread() expects parameter 1 to be resource, boolean given in
/home/holdemr/public_html/geo/geoip.inc
on line
803
Warning
: fseek() expects parameter 1 to be resource, boolean given in
/home/holdemr/public_html/geo/geoip.inc
on line
799
Warning
: fread() expects parameter 1 to be resource, boolean given in
/home/holdemr/public_html/geo/geoip.inc
on line
803
Warning
: fseek() expects parameter 1 to be resource, boolean given in
/home/holdemr/public_html/geo/geoip.inc
on line
799
Warning
: fread() expects parameter 1 to be resource, boolean given in
/home/holdemr/public_html/geo/geoip.inc
on line
803
Warning
: fseek() expects parameter 1 to be resource, boolean given in
/home/holdemr/public_html/geo/geoip.inc
on line
799
Warning
: fread() expects parameter 1 to be resource, boolean given in
/home/holdemr/public_html/geo/geoip.inc
on line
803
Warning
: fseek() expects parameter 1 to be resource, boolean given in
/home/holdemr/public_html/geo/geoip.inc
on line
799
Warning
: fread() expects parameter 1 to be resource, boolean given in
/home/holdemr/public_html/geo/geoip.inc
on line
803
Warning
: fseek() expects parameter 1 to be resource, boolean given in
/home/holdemr/public_html/geo/geoip.inc
on line
799
Warning
: fread() expects parameter 1 to be resource, boolean given in
/home/holdemr/public_html/geo/geoip.inc
on line
803
Warning
: fseek() expects parameter 1 to be resource, boolean given in
/home/holdemr/public_html/geo/geoip.inc
on line
799
Warning
: fread() expects parameter 1 to be resource, boolean given in
/home/holdemr/public_html/geo/geoip.inc
on line
803
Warning
: fseek() expects parameter 1 to be resource, boolean given in
/home/holdemr/public_html/geo/geoip.inc
on line
799
Warning
: fread() expects parameter 1 to be resource, boolean given in
/home/holdemr/public_html/geo/geoip.inc
on line
803
Warning
: fseek() expects parameter 1 to be resource, boolean given in
/home/holdemr/public_html/geo/geoip.inc
on line
799
Warning
: fread() expects parameter 1 to be resource, boolean given in
/home/holdemr/public_html/geo/geoip.inc
on line
803
Warning
: fseek() expects parameter 1 to be resource, boolean given in
/home/holdemr/public_html/geo/geoip.inc
on line
799
Warning
: fread() expects parameter 1 to be resource, boolean given in
/home/holdemr/public_html/geo/geoip.inc
on line
803
Warning
: fseek() expects parameter 1 to be resource, boolean given in
/home/holdemr/public_html/geo/geoip.inc
on line
799
Warning
: fread() expects parameter 1 to be resource, boolean given in
/home/holdemr/public_html/geo/geoip.inc
on line
803
Warning
: fseek() expects parameter 1 to be resource, boolean given in
/home/holdemr/public_html/geo/geoip.inc
on line
799
Warning
: fread() expects parameter 1 to be resource, boolean given in
/home/holdemr/public_html/geo/geoip.inc
on line
803
Warning
: fseek() expects parameter 1 to be resource, boolean given in
/home/holdemr/public_html/geo/geoip.inc
on line
799
Warning
: fread() expects parameter 1 to be resource, boolean given in
/home/holdemr/public_html/geo/geoip.inc
on line
803
Warning
: fseek() expects parameter 1 to be resource, boolean given in
/home/holdemr/public_html/geo/geoip.inc
on line
799
Warning
: fread() expects parameter 1 to be resource, boolean given in
/home/holdemr/public_html/geo/geoip.inc
on line
803
Warning
: fseek() expects parameter 1 to be resource, boolean given in
/home/holdemr/public_html/geo/geoip.inc
on line
799
Warning
: fread() expects parameter 1 to be resource, boolean given in
/home/holdemr/public_html/geo/geoip.inc
on line
803
Warning
: fseek() expects parameter 1 to be resource, boolean given in
/home/holdemr/public_html/geo/geoip.inc
on line
799
Warning
: fread() expects parameter 1 to be resource, boolean given in
/home/holdemr/public_html/geo/geoip.inc
on line
803
Warning
: fseek() expects parameter 1 to be resource, boolean given in
/home/holdemr/public_html/geo/geoip.inc
on line
799
Warning
: fread() expects parameter 1 to be resource, boolean given in
/home/holdemr/public_html/geo/geoip.inc
on line
803
Warning
: fseek() expects parameter 1 to be resource, boolean given in
/home/holdemr/public_html/geo/geoip.inc
on line
799
Warning
: fread() expects parameter 1 to be resource, boolean given in
/home/holdemr/public_html/geo/geoip.inc
on line
803
Warning
: fseek() expects parameter 1 to be resource, boolean given in
/home/holdemr/public_html/geo/geoip.inc
on line
799
Warning
: fread() expects parameter 1 to be resource, boolean given in
/home/holdemr/public_html/geo/geoip.inc
on line
803
Warning
: fseek() expects parameter 1 to be resource, boolean given in
/home/holdemr/public_html/geo/geoip.inc
on line
799
Warning
: fread() expects parameter 1 to be resource, boolean given in
/home/holdemr/public_html/geo/geoip.inc
on line
803
Warning
: fseek() expects parameter 1 to be resource, boolean given in
/home/holdemr/public_html/geo/geoip.inc
on line
799
Warning
: fread() expects parameter 1 to be resource, boolean given in
/home/holdemr/public_html/geo/geoip.inc
on line
803
Warning
: fseek() expects parameter 1 to be resource, boolean given in
/home/holdemr/public_html/geo/geoip.inc
on line
799
Warning
: fread() expects parameter 1 to be resource, boolean given in
/home/holdemr/public_html/geo/geoip.inc
on line
803
Warning
: fseek() expects parameter 1 to be resource, boolean given in
/home/holdemr/public_html/geo/geoip.inc
on line
799
Warning
: fread() expects parameter 1 to be resource, boolean given in
/home/holdemr/public_html/geo/geoip.inc
on line
803
Warning
: fseek() expects parameter 1 to be resource, boolean given in
/home/holdemr/public_html/geo/geoip.inc
on line
799
Warning
: fread() expects parameter 1 to be resource, boolean given in
/home/holdemr/public_html/geo/geoip.inc
on line
803
Warning
: fseek() expects parameter 1 to be resource, boolean given in
/home/holdemr/public_html/geo/geoip.inc
on line
799
Warning
: fread() expects parameter 1 to be resource, boolean given in
/home/holdemr/public_html/geo/geoip.inc
on line
803
Warning
: fseek() expects parameter 1 to be resource, boolean given in
/home/holdemr/public_html/geo/geoip.inc
on line
799
Warning
: fread() expects parameter 1 to be resource, boolean given in
/home/holdemr/public_html/geo/geoip.inc
on line
803
Warning
: fseek() expects parameter 1 to be resource, boolean given in
/home/holdemr/public_html/geo/geoip.inc
on line
799
Warning
: fread() expects parameter 1 to be resource, boolean given in
/home/holdemr/public_html/geo/geoip.inc
on line
803
Warning
: fseek() expects parameter 1 to be resource, boolean given in
/home/holdemr/public_html/geo/geoip.inc
on line
799
Warning
: fread() expects parameter 1 to be resource, boolean given in
/home/holdemr/public_html/geo/geoip.inc
on line
803
Warning
: fseek() expects parameter 1 to be resource, boolean given in
/home/holdemr/public_html/geo/geoip.inc
on line
799
Warning
: fread() expects parameter 1 to be resource, boolean given in
/home/holdemr/public_html/geo/geoip.inc
on line
803
Warning
: fseek() expects parameter 1 to be resource, boolean given in
/home/holdemr/public_html/geo/geoip.inc
on line
799
Warning
: fread() expects parameter 1 to be resource, boolean given in
/home/holdemr/public_html/geo/geoip.inc
on line
803
Fatal error
: error traversing database - perhaps it is corrupt? in
/home/holdemr/public_html/geo/geoip.inc
on line
843