Holdem Review Partners With Pokernews.com to Offer WSOP Freerolls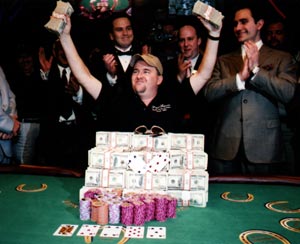 Wow. I am super excited to announce that I have struck a partnership with pokernews.com to offer a ton of exclusive private freerolls just for you. There are many amazing prizes including 33 seats to the 2008 World Series of Poker including travel expenses and accommodations worth $12,500 apiece!
For all you math-types out there, that means we're giving away a bazillion dollars worth of WSOP entries. Errr… Actually it is $412000 worth, but close enough.
Go check out the new online poker freeroll listings page to view all of the tournaments that are coming up.
You should also check back regularly by clicking on the "Online Poker Freerolls" link in the main menu on the left.
I don't have all the details yet, but here is what I know is being offered:
World Poker Tour entries worth $5000 to $12000 apiece
World Series of Poker entries worth $12500
European Poker Tour entries worth €1000 to €5000 apiece
Many entries to the €1500 PokerNews Cup Austria in Salzburg on April 23-27, including airfare and accommodations
A monthly private $2500 freeroll at CD Poker
I also must say with all honesty that the freerolls being offered are a massive value. The WSOP freeroll tomorrow at Full Tilt only has 73 players. 73. You are given a freaking fantastic chance to get a seat at the main event for absolutely free. Chris Money maker got ripped off for his seat. He had to pay $33. You have to pay nothing for your chance at millions. I like that price.
Once you sign up through one of my links, you can enter all of the pokernews.com freerolls at that site. You don't just get one freeroll tournament one time. You can play in every one offered for the rest of your life. I can't stress enough what a great opportunity this is.
Go check out the online poker freeroll listings page and register to play in the next freeroll coming up. They run almost every single day.