Bellagio Poker Room Review
Big games and big names, that's what you'll find at the Bellagio poker room. For you rich guys, try your luck against the likes of Doyle Brunson, Eli Elezra, Jennifer Harman, and Phil Ivey in a $2,000/4,000 mixed game. While the Bellagio is a 'players' poker room, it's not for the faint of heart. Even the $4/8 fixed limit games can be tough to beat.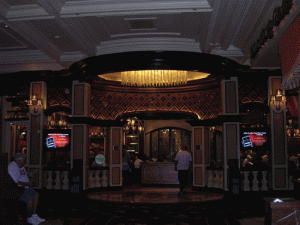 While most players at Bellagio wouldn't be classified as professionals, there are a lot of sharks in these waters. Tough players from around the world come to the Bellagio to test their skills against some of the best cash game players alive. Looking around the room may not always reveal a big name pro, but how many top online players would you recognize if they were standing in front of you?
What I like about the Bellagio poker room is the feel of the room. Like I mentioned above, it's a 'players' room. While I'd like to see the tables spread out further apart from each other, the tight quarters do give it an 'all-business' type of a feel.
Bellagio Game Choices
The Bellagio offers the most well rounded choice of games. Fixed limit games start at $4/8 and no-limit games start at $2/5. From there, players have their choice of 16 different games and stakes. If you and your friends are billionaires and want to play $1 million/$2 million, the Bellagio will hook you up. Beyond all of the typical Hold'em games, they run Stud games, Omaha, Omaha 8 or better, and even some Razz.
Bellagio Poker Room Rake
Bellagio has a no flop, no drop policy in all games. The rake deal for low-stakes games at Bellagio is basically the same as everywhere else. They have a $4 max rake per hand, and strike points are about the same as everywhere else as well. In a $4/8 FL game for example, the strike points are as follows: $1 taken once the pot reaches $10, $1 at $30, $1 at $70, and $1 at $110.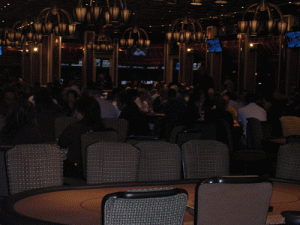 The high stakes games are popular at Bellagio partially because of how they take the rake. Instead of taking a per-hand rake, they take a time based rake in any game above $5/10. Depending on the stakes, the time rake is between $5 and $10 per half-hour, per player. If this sounds like a lot, you haven't done the math. In high stakes games, players can easily pay $20-$40 per hour in rake, so this is a big benefit.
There are no high hand or bad beat jackpots at Bellagio, which means there's nothing extra taken out of the pots to pay for them. Rake reduction is available for short-handed games, be sure to ask your dealer for it if you get down to 6 players or less.
Bellagio Poker Tournaments
The Bellagio poker room offers two of the largest daily tournaments in Las Vegas. The 'small one' has a buy-in of $500+$40 and starts at 2 pm every Sunday through Thursday. On Friday and Saturday, they run a $1,000+$80 tournament, also at 2 pm. The structures for these two tournaments are about as good as you'll find for non-major events.
In the $540 tournament, players start with $6,000 in chips, with blind levels increasing every 40 minutes.
In the $1,080 tournament, players start with $10,000 in chips, and the blind structure is the same.
Considering that most tournaments in Las Vegas have blind levels that increase every 15-20 minutes, these tournaments offer a lot more opportunity for skilled players to shine. There are too many levels to list here, but to give you an idea, the level after 4 hours of play is only $300/600 with a $50 ante.
Bellagio poker tournaments have a nice payout structure as well.
With 30-59 players, 5 places get paid.
With 60-124 players, 9 places are paid.
With 125 + players, the top 18 finishers make the money.
Satellites are available for both tournaments, starting at 9:00 am every morning. The $540 tournament satellites have a buy-in of $130 and the $1,080 tournament satellites have a $240 buy-in. In both satellites, the top two finishers win an entry to the event.
Televisions
The Bellagio offers eight 32" monitors and eleven 42" plasma tv's. Typically, any game you want to watch will be within viewing distance.
Food & Beverages
Okay, here's my only real gripe about the Bellagio poker room. Getting a drink here is like finding water in the Sahara, good luck finding a cocktail waitress. If you do find one, good luck getting your order in to her as 20 other guys leap to place theirs too. Beyond that, the waitresses here aren't the most polite that you'll find in Vegas. (They are hot thouth…) Maybe it's because the poker room is under-staffed with waitresses, but regardless of the reason, players should be able to get drinks without having to hunt down skirts all night long. One of the employee's of the poker room even admitted to me that they get a lot of complaints about this.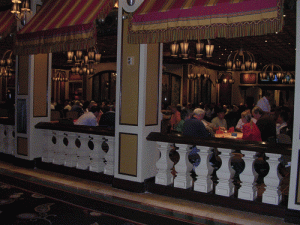 Most locals who play at the Bellagio eat at one of two restaurants. The closest place to eat is called 'Snacks' – creative eh? While the name isn't very creative, the food here is pretty good. If you're looking for a quick bite so you can get back to your table quickly, you can grab a sandwich, a bowl of soup, or a couple slices of pizza here. Sandwiches are in the $8 – $11 range and soup is about $4. To find Snacks, when you exit the poker room from the main entrance, walk straight ahead, past 'The Bank' nightclub. If you prefer, just look for all the hot girls with dresses that barely cover their rear-ends. Snacks is located just past them.
Noodles is another popular spot for poker players at Bellagio. It's close proximity to the poker room offers players something different from the sandwiches and pizza you'll find at Snacks.
Massage
The Bellagio poker room offers massage service by licensed massage therapists. The rate is $25 per 15 minutes.
Summary
The poker room at the Bellagio Hotel and Casino is one of the nicer rooms you'll find. If you're looking for high stakes games and don't mind spending $7 per drink at the bar located outside of the poker room, Bellagio is the room for you. If you decide to play here, bring your A-game, or expect to lose your buy-in over and over again. Although the big name pro's aren't here all the time, this is the best room for pro-spotting. Bring your camera….and a bottle of your favorite 'juice'.