Caesars Palace Poker Room Review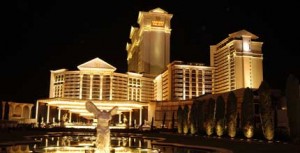 If the sounds of ringing slot machines and screaming craps players isn't your bag, the Caesars Palace poker room is your best choice. The poker room is set back from the casino, down a hallway which separates it from the casino floor. The room is quiet, classy, and a great room for long sessions. The carpet is nice, the tables are nice, and the overall atmosphere is calming. If you're looking for a wild & outgoing atmosphere, this room may be too subdued for you. At times, the room can feel a bit like a library, where if you speak too loud the whole room can hear you.
The Caesar's Palace Poker Room
The first thing you'll notice when you enter this poker room is how well it's spread out. The tables have plenty of space between them, and there's a tournament room separating it from the cash tables by a half-wall.
Located between the sportsbook and the Pussycat Dolls Lounge, there are other entertaining things to do close by. On the weekends, girls dance in cages at the Pussycat Doll blackjack tables, a great way to cure (or inflame) your tilt. If you're looking for a place to party, the popular Pure nightclub is located behind the Pussycat Doll lounge.
Cash Games
$1/3 NL Hold'em is the most popular game at the Caesars Palace poker room, but $2/5 and $5/5 games run most of the time as well. Fixed limit games start at $3/6, and they often run a ½ kill game when players agree on it. $4/8 FL Hold'em is commonly running here on the weekends, plus an occasional $6/12 game. On Friday and Saturday nights, $2/5 Pot Limit Omaha is often run too. During the WSOP when the town is packed full of players, Caesars also runs a $4/8 mixed game, Badugi, Chinese Poker, 2-7 Triple Draw and 2-5 Triple Draw.
There are 32 cash game tables in total. Rake reduction is available at tables of 6 or less. At a poker room with rakes as high as Caesars are, be sure to ask for a rake reduction if your table gets down to 6 players. This can make a huge difference in you results after a long session.
Caesars Palace has a high-hand jackpot, which generally pays anywhere from $60 – $280 depending on the hand that's made.
Cash Game Rake
Caesars Palace, like most strip casinos has a no flop/drop policy.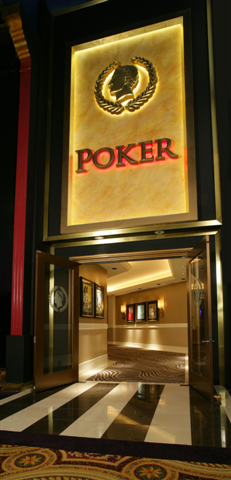 So, if a hand ends before a flop is laid out, there is no rake taken. $1/3 NL, $2/4 FL and $3/6 FL games have a rake of 10% up to $4 max. $2/5 NL and $4/8 FL are raked at 5% up to $5. These rakes are a bit higher than other strip rooms, so keep that in mind if you're planning on playing long sessions. $5/10 games run time based rakes, which is $6 per player, per half hour. Beyond that, there is also $1 taken from every $10 or larger pot to pay for the high-hand jackpots.
Special Promotions
Although the rake at Caesars Palace is a bit higher than most other rooms, they do offer players a lot of promotions that aren't available anywhere else. During all Monday Night Football games, every time a team scores a field goal, $50 is randomly thrown into a pot. There's $100 thrown in for every touchdown, and $200 for every safety or 2-point conversion. Root for offense!
Caesars Palace is also the home of the Caesars Palace Classic tournament series. This is a 17 event tournament that starts on October 16th, capped off on the 28th when the main event begins. Most events have a $500 or $1000 buy-in, with a $300 Ladies Only event held on the 26th. Most events are NL Hold'em, but there are a few other games sprinkled in as well. The main event has a $10,000 buy-in and should attract some of the biggest names in the game. Various satellites, seat giveaways, and other promotions for the tournament are running now! Players can call (866) 227-5938 for more information.
Massage
Massage Therapists can be hired at the tables for $2 per minute.
Food & Beverages
Cocktail service at the Caesars Palace poker room is pretty good. With dedicated poker room waitresses, players generally don't have to wait long for their drinks, or hunt down waitresses to get an order in.

If you'd like tableside service, food is provided by the Augustus Café. Players can choose between a wide variety of American, Mexican and seafood dishes, including salads, tiger shrimp, mahi mahi, yucatan chicken tacos, black pepper crusted filet mignon, and steak sandwiches. Lunch meals generally cost $15-$22, and dinner is in the $32-$44 range. That's pretty steep for tableside meals, but the food is better than what you'll get at most poker rooms.
Players can also chose between several other restaurants inside the Caesars Palace casino. The Mesa Grill is right around the corner from the poker room, and there is the Café Lago Buffet if you're looking to stuff yourself.
If you feel like splurging, you can always go to Restaurant Guy Savoy. For a mere $400 per person, you can get a 10 course meal made by Guy Savoy, some famous chef. I'm sure the food is great, but you might want to win a few all-ins before trying this place.
Television
The poker room has about 8-10 flat screen tv's, but they're a good distance away from the tables. If your favorite team is playing, bring your binoculars.
Daily Caesar's Palace Poker Tournaments
$65 No Limit Daily @ 9AM: 2000 tournament chips. 500 chip add-on for $5. 30 minute blind levels.
$125 Sunday – Thursday @ 12PM: 5000 tournament chips. 2500 chip add-on for $10. 30 minute blind levels.
$330 Friday – Saturday @ 12PM: 10,000 tournament chips. 2500 chip add-on for $10. 40 minute blind levels.
$65 No Limit Daily @ 3PM – 50 Player Max: 2000 tournament chips. 500 chip add-on for $5. 30 minute blind levels.
$150 Daily @ 7PM: 4000 tournament chips. 2000 chip add-on for $10. 30 minute blind levels.
$120 Daily @ 9PM – Bounty Tournament: 2500 tournament chips. 1500 chip add-on for $10. 30 minute blind levels.
$65 No Limit Daily @ Midnight – 50 Player Max: 2000 tournament chips. 500 chip add-on for $5. 30 minute blind levels.
$120 Sunday @ 5PM – Shootout Format: 1500 tournament chips. 1000 chip add-on for $10. 20 minute blind levels.
Summary
The Caesars Palace poker room is a classy joint. If you like to focus on your game without the typical distractions found at other poker rooms, this is a great place for you. If you like more excitement and fuel for your ADHD, you may want to try somewhere else. The rake is a little higher here than other rooms, but they put that extra rake back into promotions and fun stuff. One thing that has never changed about Caesars, it's still one of the coolest casinos in town.