Party Poker Review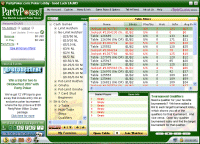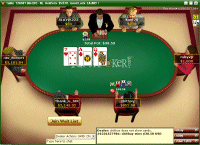 Quick Stats

Open Since

2000

Player Traffic

85,000 +

US Players Allowed?

NO

Max. Tables

12

Bonus

100% up to $500

Minimum Deposit

$25

Network

PartyPoker

Rating Overview

Software Quality

8.5 / 10

Player Traffic & Skill

9 / 10

Tournaments

8 / 10

Bonus and Promotion

9 / 10

Security & Support

8.5 / 10

 
 

Overall Rating

86%
Party Poker Overview
Party Poker was where I called home for two years prior to them dropping Americans in October of 2006. PartyPoker.com has always done an exceptional job of marketing and attracting lots of newer players. Before leaving the US market, Party Poker was the biggest online poker site in the world and the most popular when it came to real money Texas Holdem. They lost about 70% of their players when Americans were no longer allowed, but PartyPoker has done a good job of marketing internationally and has steadily grown since then.
I have a lot of experience at Party Poker, but that was mostly in the past. For this review, I have played a lot on their play money tables and I have also talked with players I know who still play there. I feel that I have a very good grasp of the current scene at Party. The only section that I have to rely on other players' opinions for is real money tournament and ring game strength.
Party Poker Bonus and Promotions
9 / 10
Party Poker has very good promotions for their players, and as a result, many players stay very loyal to Party. I was one of those players before I could no longer play there for real money. Party Poker offers reload bonuses for any extra money deposited nearly every month. They also have a very solid player points store with tons of cool merchandise.
Party offers all new players a 100% up to $500 bonus on their first deposit when you use our party poker bonus code 2011. I really liked this bonus because it was an easy one to clear, unlike some of the other $500+ bonuses out there. The new 2011 Party Poker bonus is easy to clear, gives you up to $500 on your first deposit and will include you in the Party VIP program, which awards instant cash.
Software Quality
8.5 / 10
Party Poker has always been an innovator when it comes to online poker software. They were the first poker room to offer resizeable tables in 2006. They were the first major poker room to allow players to play more than 8 tables at once (if you can handle that many).
Party Poker is fully compatible with Mac and Linux. They offer a no-download version as well as a downloadable Mac version of their software.
There has never been any major issues with connection reliability or any software glitches for me. Party Poker continues to offer reliable, smooth game play.
I have never liked how their software looks. The lobby is bright green, yellow and purple. Party Poker's tables are old-fashioned looking. They are not very fancy at all. While plying, you are looking at a generic table with or without (depending on your options) cheesy looking people sitting in chairs. You know though, I guess that is part of Party's charm for me. There is a certain amount of cheese when you play at Party Poker. It's kind of goofy without really trying to be.
Ring Game Traffic and Quality
9 / 10
Up until 2006, Party Poker would have scored a 10 / 10 in this category, but they have lost all American players. Party Poker is still the largest international-only poker room. They have a large amount of traffic at all levels, from $0.02/$0.04 up to $100/$200. There are still 10,000 plus cash game players at peak times. That places them second or third among all poker sites. The level of play is also quite soft compared to other poker sites. Due to the ease of competition and very strong player traffic, I give Party Poker high marks.
Tournament Traffic and Quality
8 / 10
Party Poker was the first online poker room to hold a million dollar poker tournament, and they have set the bar for a long time for real money online poker tournaments. As I mentioned before, Party Poker lost some player traffic in 2006, but international players are avid tournament players. Party Poker has some of the easier tournament fields online. They have many guaranteed tournaments that run daily, and many different buy-ins every hour. They have everything that the other big rooms have, but not much extra to stand out from PokerStars or Full Tilt Poker. I place Party Poker third behind these two poker rooms for tournament play.
Deposit Options, Financial Security & Support
8.5 / 10
For international players, Party Poker is tough to beat. They have solid email support and 24/7 telephone support based out of India. One of the only tough spots about their support is that I have found it very difficult at times to communicate with their telephone support due to very strong Indian accents. The effort they put into support is top-notch though.
You should feel very safe with your money at Party Poker. They are traded on the London Stock Exchange and run a very transparent and trusted company. Even when they had to cash out tens of thousands of American players accounts in 2006, they gave every player every cent owed to them without fighting.